September 2017 saw the launch of the TAM Ireland A/V Data Solution 2017, Phase 1 in the VISTA project.
The objective for this phase is to provide an A/V Planning Aid  for media agencies and broadcasters.
The A/V Data Solution provides a picture of A/V consumption by device and format, incorporating both in-home and out-of-home viewing. Data is provided on average daily, weekly and monthly reach by device and format, and incremental reach x format along with average daily minutes. The data includes both individuals from TV Households and from All Households and covers 17 demographics.
The TAM Ireland A/V Data Solution is available to all subscribers to the TAM Ireland data – subscribers can get their copy by emailing info@tamireland.ie
More information about the VISTA project can be found here.
Here's a little taster of the type of information this provides:
The first chart below shows the average mins viewed per day by Adults 15+ in a TV household: you can see from this that 87% of all viewing each day across all devices is to broadcaster content – Live TV, Recorded TV, Broadcast Players and Pay Per View movies and sport.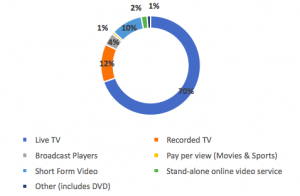 This chart shows the net reach of each format for Adults 15+ in a TV household. The format includes all devices – TV Set, PC/Laptop, Tablet and Smartphone – the data itself allows you to look at net reach by each individual device but this summary chart focuses on the format across all devices. Again it demonstrates the strength of broadcaster content.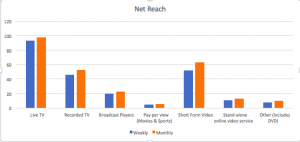 This final chart example below shows Incremental reach when you build by format across all devices, giving a reach figure up in the high 90's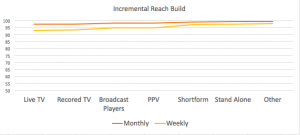 Here's how we did it:
TAM Ireland gather data from many different sources:
-TAM Ratings: Carried out by Nielsen, this is a metering of all TV set activity in the home from a nationally representative panel of 1050 TV households
-Establishment Survey: Conducted by B&A, 8,250 households are interviewed about their devices and access to reception types and broadband in the home.
-Life-style Survey: A survey conducted by Nielsen of the TV panel members on their behaviour and attitudes.
-Total Viewing Study: Conducted by IPSOS MRBI surveying 1000 individuals on their total viewing habits across all devices and formats.
Following a competitive pitch TAM Ireland commissioned Nielsen Data Science team to undertake a data fusion project using the data from all of the above TAM Ireland data sources.
It is important to note that the ES, Lifestyle and TVS are all based on claimed activity where as the TAM Ratings are based on actual viewing activity. The TAM data was matched to the fieldwork period of the 2017 Total Viewing Study  (TAM data from Monday 23 January to Sunday 19 February 2017).