Yesterday, as Storm Ophelia made her way up through the country, thousands of residents in Ireland—the ones with power, at least, turned to news on the television to keep up with the storm's path, while others, safely out of harm's way, tuned in for entertainment to while away the hours while the storm raged outside.
Understandably, TV stations extended news programming hours yesterday, to bring viewers updates on transport and electricity supply issues, while also including the standard images of wind-blown reporters and fallen trees. Not surprisingly these news bulletins pulled in large amounts of live viewers across the day yesterday. TV3's news bulletin at 8pm was watched by 220,400 individuals which is nearly two and a half times more people that who watched the news bulletin at the same time on the station last year (Monday 17th 2016). Over on RTE One, the Six One news was watched by 72% more individuals than the same news bulletin last year. Over 630,000 individuals watched the One O'clock and Nine o'clock news on RTE1. In the case of the later, this figure is almost double the viewership of the news at the same time last year.

General programming also experienced big lifts in live viewership across the day, particularly during the morning to mid evening. The chart above shows individuals (in 000's) watching all TV on the day of the storm (blue line) versus the previous Monday (9th October).
The chart below shows average viewing by daypart on TV3. From approx. 7.30am onwards daytime viewing was significantly up on the same day last year with particular spikes in viewing around live programming such as Ireland AM and news segments. Coronation street on TV3 rated 8.79 for individuals during the storm, last Monday (9th October) the equivalent rating for the programme was 5.71.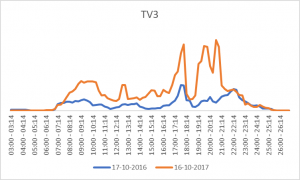 Over on RTE One it was a similar story across the day, with news bulletins providing the main viewership spikes during the day.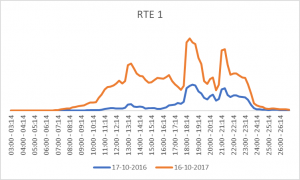 On RTE Two and TG4, children's programming in particular delivered increased ratings in comparison to the same day last year.
What yesterday's events showed is the powerful mass reach of TV, whereby it can deliver a real time experience to viewers that is available nowhere else.
• All ratings figures are LIVE and exclude VOSDAL/Consolidated data.