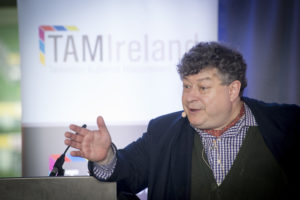 The TAM Long Lunch with Rory Sutherland took place on Friday October 4th with just under 300 people in attendance from across the advertising, marketing and media industries. You can view photos from the day here
Over the lunch in the Aviva Stadium, Rory spoke about "the most important sentence in advertising, the value of the Marketing Mindset, and how a "flower is simply a weed with a marketing budget".
In regards to the Marketing Mindset he described how the value of it lies in taking the human perspective, not the spreadsheet perspective and how Marketers look at the problem from a different perspective to everyone else in the room. He also discussed how the industry needs to be aware that "if something is not attributable, it doesn't mean its not valuable".
Below you can view some video excerpts from Rory speaking on the day