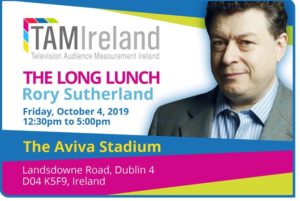 Originally described described as the worst graduate trainee that Ogilvy & Mather had ever hired, Rory Sutherland steadily rose through the ranks to become Vice Chairman of Ogilvy Group, Executive Creative Director of OgilvyOne London and one of the most followed men in marketing. An early fan of the Internet, he was among the first in the traditional ad world to see the potential in these relatively unknown technologies.
He continues to provide insight into advertising in the age of the Internet and social media through his column "The Wiki Man" at The Spectator and his busy Twitter account.
He works with a consulting practice of psychology graduates who look for 'unseen opportunities' in consumer behaviour – these are the very small contextual changes which can have enormous effects on the decisions people make – for instance tripling the sales rate of a call centre by adding just a few sentences to the script.
Put another way, as opposed to just talking about "bought, owned and earned" media: Rory encourages Marketeers to look for "invented media" and "discovered media": seeking out those unexpected (and inexpensive) contextual tweaks that transform the way that people think and act.
Over lunch in the Aviva Stadium, Rory will let us in on branding secrets, and show how human behaviour isn't always logical – wrapping it all up with an easy humour and bundles of charm. You'll come away thinking differently, buzzing with insights and ideas.
Arrival & Registration 12.30pm
Speaker starts at 1pm
3 course lunch served
Fee: €500 per table of 10 or €50 per individual ticket