Since it first hit our screens in 1975, watching the Late Late Toy Show has become an Irish Christmas tradition. Its enduing presence makes the viewing of the show an annual event in most Irish homes. The show began as a half-hour slot at the end of 'The Late Late Show', designed to give parents an idea of what toys were in the shops for Christmas while their children were supposed to be asleep in bed. It soon became a one-night show in its own right, complete with children toy-testers and performers.
'The Late Late Show' was first presented by Gay Byrne. Pat Kenny replaced Gay Byrne as presenter in 1999 and remained in that position for 10 years. Ryan Tubridy took over in 2009.
The reach of the show is incomparable. For the last 5 years of the show close to three quarters of the available viewing audience have tuned in. It is a prime example of how TV can bring people together and create strong cultural and emotional ties between people. The reactions that the show triggers on social media is also astonishing-for example during the 2017 programme there was just under 75,000 tweets sent during the show using the hashtag #latelatetoyshow.
The most interesting stat is that even with media fragmentation and huge changes in viewing behaviour (over the past 5 years in particular), the number of individuals watching increased by 40% between 2006 and 2016, with the 2018 viewing figures only just below that 2016 figure.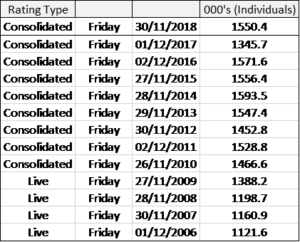 All Individuals. Consolidated ratings includes all viewing watched live or within 7 days of original broadcast
The Toy Show is now more than being about about any one person or any one TV station-its an Irish institution. To celebrate this years show, which will be broadcast at 9.35pm on RTE 1 on Friday 29th November, have a look at a few of the top moments from years gone by.