Top 50 TV Programmes 2019
Official TAM Ireland/Nielsen figures for 2019 show television viewing continues to dominate our leisure time with the average Irish adult in a TV home watching for 2 hours 55 mins every day.
85% of daily viewing is consumed live, (i.e. viewed as it is scheduled), with just 15% watched as catch up. 60% of all TV homes in Ireland now have PVR capability (the ability to pause, rewind and record live TV), offering more choice and flexibility to the viewer.
Good news for advertisers; Housekeepers (those that have the responsibility for the main household shopping) continue to be amongst the heaviest viewers spending 3hrs and 34 mins watching TV every day.
The highest rating of all programmes across all channels available to view in Ireland in 2019 was The Late Late Toy Show1. Interestingly when it comes to entertainment shows, I'm a Celebrity Get Me out of Here, Room to Improve and Mrs Browns Boys all performed exceptionally well, making it into the top 20 shows of the year1.  Home-produced programmes and entertainment shows continued to dominate the top of the ratings chart across all channels.
Sport was a big winner this year again accounting for more than half of the top 50 programmes of the year.  The AIB GAA All Ireland Football Final Replay Dublin V Kerry was the most viewed sporting programme of 2019 and the Ireland V England match was the most viewed Guinness Six Nations game.
In 2019 we lost two greats from the TV world and the Late Late Show celebrated the lives of both Gay Byrne and Brendan Grace with special shows dedicated to each of them. Both of these shows were amongst the highest rating Late Late Shows of the year.
Younger audiences (15-34 yr olds) were drawn to the big entertainment shows the Late Late Toy Show was number one for them with  I'm a Celebrity Get Me Out Of Here, Love Island, Mrs Browns Boys and The Young Offenders all making it into the top 10 programmes for this age group for 2019. Derry Girls and Game of Thrones also performed very well  for this age group.
Looking at the Top 50 programmes it is evident that "Live" programmes and big events are hugely popular, which is a unique strength of TV broadcasters. The ability of TV broadcasters to provide this content at scale to mass audiences is one of the reasons why TV continues to stand out as the super medium.
Jill McGrath CEO of TAM Ireland commented:  "It's fantastic to see the place that Television holds in the hearts of the nation. As programme choice continues to expand so too does our appetite for content. The  content produced by TV broadcasters continues to drive conversations and shared experiences  across the nation, with relevance being at the heart of its appeal. It's no surprise that TV continues to dominate the Irish media landscape and we look forward to another year of fantastic TV broadcaster content being delivered to the nation across multiple platforms."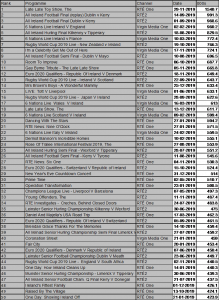 Source: TAM Ireland Ltd / Nielsen TAM
1 Top Programmes based on Individuals 4+, All Subscribing Channels,  Averaging Option: Any Day, Any Time, Best Episode, Minimum Duration 10 Minutes.
Please note: This list uses best episode of a series.