(This article is reproduced (with some changes) with thanks to RTÉ Media Sales. It is based on an article by Jenny Legg from RTÉ Audience Insights that was published in IMJ in August 2019)
How many times have we heard the sweeping diagnosis, "Live TV is dead"? Often enough to cause some in the industry to refer to this diagnosis as delusion, or Cotard's Delusion!
As a cure we offer the following consultation: Live TV viewing accounts for over two and a half hours of an adult's time. Every. Single. Day. That's a lot longer than your lunch break, which we're sure isn't dead; longer than your short hop flight to London, Paris or Barcelona which we hope isn't dead and significantly longer than it takes to commute in and out of work-we hope!
Think WE'RE deluded?! Here comes the science bit…
Live TV viewing accounts for a big chunk of all AV viewing. We know that it's about 65% among Adults 15+ which equates to approximately 152 minutes per adult every day!
This figure does of course vary among different channels and different age groups-with younger viewers watching less live TV than older. However, it is genre which really dictates levels of time-shifting.
Genre
Take drama. On RTE, the first 8 episodes of Season 3 of the drama A Handmaid's tale which started airing in June were time-shifted to the tune of 54%. In other words, over half of those watching watched it after it started broadcasting. In some cases, this may have only been an hour or two later; certainly, most viewing would have happened within a day or two. Chernobyl*on Sky Atlantic was a massive time-shifted hit, where 87.5% was watched after initial transmission. Interestingly though, as word of mouth on the show spread and the ratings grew, episode on episode the % of people watching live increased.
Looking at another genre-comedy we can see it is also massively time shifted. Channel 4's popular Derry Girls was big time-shifted hit – 82% of Season 2 was watched after initial transmission.
Meanwhile sport and programmes such as news, current affairs and entertainment are much more likely to be viewed live. 89% of Ireland's Six Nation matches on Virgin Media One were viewed live, while 81% of the two Primetime Investigates episodes ("The ESB Leaks" and "Greyhounds Running for their Lives") that aired on RTÉ One in June were viewed live. It makes sense – people have different needs when they're watching this type of content and these needs best align themselves with live viewing or watching events with others as they're unfolding.
Age
If we look at the proportion of live viewing among different age groups, distinct patterns also emerge. In short, under 45s time-shift more than over 45s. However, the trend is not as pronounced as people might think. Three years ago, the average 15-34 year old watched 85% of their TV content live and now they watch 80% – hardly a seismic change.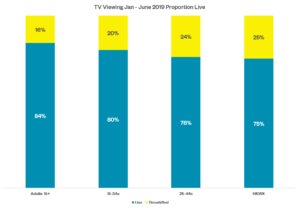 Advertising
So, what are the implications of all this on advertising? It is of course preferable for programmes to be viewed live; however it would be wrong to presume that time-shifted advertising is not watched. Even when programmes are pre-recorded, a significant proportion of ads are viewed in normal speed. So, let's look again at The Handmaid's Tale on RTÉ2. Being a drama, and one which appeals to younger audiences, lots of time-shifting is taking place. In fact, 69% of 15-34s viewing of the first 5 episodes was time-shifted. Nevertheless, 32% of 15-34 commercial impacts (advertisements) delivered by The Handmaid's Tale occurred in the time-shift window. Looking again at Season 2 of Derry Girls (where 82% of its viewing occurred after its broadcast), 58% of the commercial impacts came from time-shifting.
Remember, these ads were viewed in full, at normal speed with the sound on, even though the programme was not being viewed live. Importantly, as the bulk of this catch-up viewing is happening within a couple of days of original broadcast, these ads are still very relevant.
So, in short, live TV viewing is in good health despite many technological advances. And medically, it's time to assign Cotard's Delusion back to the textbooks.
Source: TAM Ireland Ltd./Nielsen TAM. All figures refer to Jan-Jun 2019, National, All day, All Individuals unless otherwise specified
*Chernobyl figures refer to the 9pm episode only