We know that TV viewing (live, playback and Broadcaster VOD services) dominates the video viewing of all ages, but we wanted to take an in-depth look at the video viewing habits of Irish Millennials aged 15-24 years.
We used the the TAM Ireland A/V Data Solution for our analysis.
You can see from the below chart is that while less than that of some older audiences, due to a more varied video diet; TV still accounts for just under 60% of 15-24 year olds total video viewing.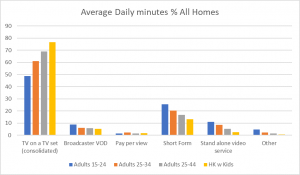 As people age and start to view even more video content, we see that TV picks up the vast majority of the increases. Minutes viewed to broadcast players remain stable as we go through the age groups, and areas such as shortform and standalone video services register small decreases.
This data seems to lend support to the notion that digital video is complementing more than replacing traditional TV, as total video time viewed continues to grow.
To see all the figures you can view or download our info-graphic on the viewing habits of Irish Millennials.