There is no doubt that in Ireland, watching TV has always been a social experience. Even before the arrival of the internet people would gather around to tune in with their friends and families, discussing what they were viewing.  While "watercooler moments" (where those significant moments in TV broadcasting are discussed the next day in the workplace or home) still exist, they have altered slightly. The conversations still happen; however, many of them have moved online. In many ways, social media has become the digital water cooler.
With this is mind TAM Ireland are now working with Engager. Engager's innovative software mines the world's top social media APIs and uses AI and TV industry-specific machine learning technology to rank the engagement, reactions and sentiment of Irish TV audiences.
Engager analyse social engagement in terms of likes, comments, shares, and retweets across Facebook and Twitter.  Looking at data from February 5th-11th 2018 we can see that the Late Late Show was the top programme in terms of social engagement for all TV programming during that week. This was the "Valentines Special" and even featured a live proposal so perhaps it's no surprise that social media was ablaze with commentary during the show! What is very interesting is how new TV content such as Derry Girls on Channel 4 and Ireland Got Talent on TV3 immediately stuck a chord with Irish viewers and featured in the top 10. It should be noted that sporting programmes are not yet included in the analysis.
Social TV Measurement Top 10 February 5th-11th 2018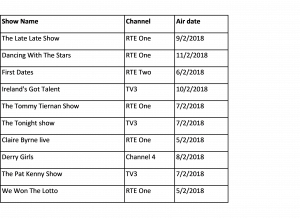 With thousands of people in Ireland taking to social media to talk about the content that they are consuming live; this data confirms what we have always known-that TV is a high engagement medium. The data enables us to fully understand the powerful connection between audiences and TV programmes.
The Irish are social creatures and there will always be a market for discussing popular culture. In fact, it could be said that the water cooler moment hasn't gone away, it has just changed form.